Our driver pulled onto the shoulder to avoid a pothole the size of as a small elephant. He looked over his shoulder and asked my husband, "Is she sure about this?" We could see nothing ahead but more potholes. My husband looked over at my pleading expression and replied in Malayalam, which he and the driver spoke (and I do not), "Let's go a little farther."
I'd asked him if we could take a detour from our honeymoon in the romantic hills near Munnar, India, to look for a natural dyer. We were following a vague online listing I'd found with half a street address. I was the only one with any real interest in the dye studio, but both my new husband and our guide humored me.
On a Yarn Quest
Searching for a fiber farm or traveling to a wool festival has been the most special part of many a trip, whether I've made a special yarn pilgrimage or just a side quest from some other journey. We're devoting this week to textile travels—how to find not only yarn but also the special experiences that are worth the trip.
Back in Munnar, our road eventually smoothed out, and we found Aranya Natural. We arrived unannounced but still saw the studio and bought a few shawls, which I treasure far more than any of the traditional souvenirs of our trip. Every time I wear one, the whole adventure comes flooding back to me.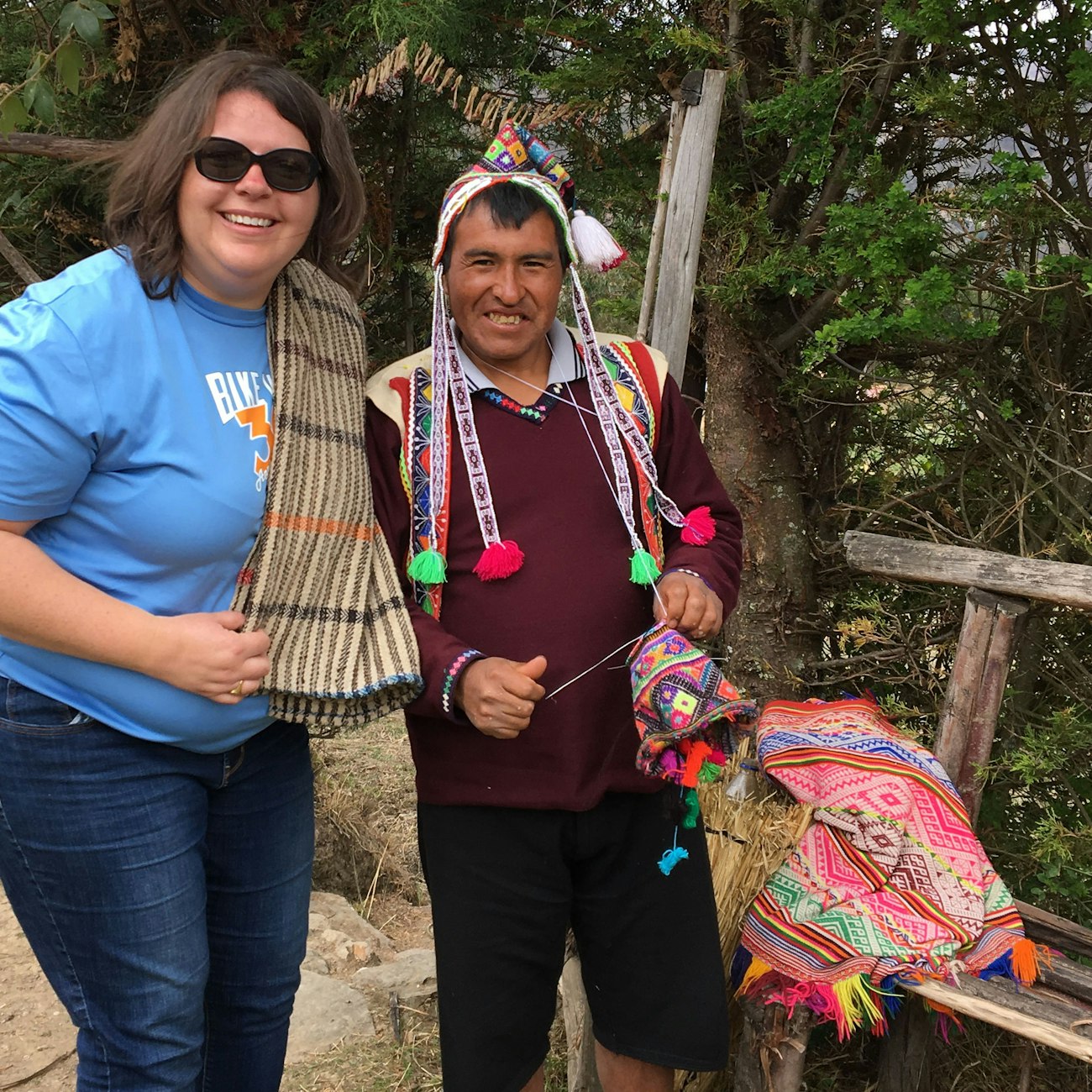 In the tiny village of Amaru near Pisac, Peru, I bought a blanket and learned about Andean circular knitting techniques. Photo by Anne Merrow
I have dragged my spouse on detours like this since we met, and I've taken textile expeditions on almost every solo trip since I learned to knit. Wind-powered yarn mill? Absolutely! Mini-mill an hour up the coast? Sounds like a good side trip. Sunday afternoon drive? Yes, and can we stop at the wool festival?
The Pleasures and Perils of Fiber Travels
These yarn trips have not all been successful. I saw zero silk in China's famous silk city, Suzhou, because I hadn't prepared: I didn't know what there was to see, where the silk museum was, or even which direction my guidebook map should point. In the evening, after most of the traditional silk attractions had closed, I stumbled across a yarn shop. Not wanting to leave empty-handed, I asked the clerk to point me toward 100% wool yarn by drawing a terrible sketch of a sheep and saying, "Baaaaah?"
I have a stash full of yarns and textiles and fiber purchased on these fiber side trips. Some are treasures, like yarn from Starcroft Fiber, a small mill that processes the fleece from island sheep living off the coast of Maine. Some are decidedly not, like balls of handspun wool that hatched moths in their isolation period. Most of these yarns are less exciting than the memory of buying them: where I went, whom I met, and even what the place smelled like. As lost as I felt on my overnight in Suzhou, I can still picture the dark shop on the outskirts of the city and the clerk's expression as a strange woman tried to make sheep noises at her, and that was almost worth the trip. It also taught me some important lessons about planning ahead, when to seek professional guidance, and why it's handy to bring a lighter in case you need to do a burn test.
Read on for how to make your textile travels wild, wooly, and memorable.
—Anne
---
Anne Merrow is Long Thread Media's cofounder and editorial director.