If you're planning your next fiber adventure, take some lessons from the pros. Sometimes, finding extra-special yarn-centric stops is easy—on a trip to Edinburgh, I was practically tripping over handmade textiles—but it might take more preparation in other areas. We asked some experts for their advice on traveling as a knitter and came up with some advice.
Do Your Research
Some people prefer to travel with no actual plans, instead letting the universe take them where they will once they leave their hotel. I am not one of those people, and I have found that researching before you travel can help you get the most out of your trip when it comes to finding local yarn shops, makers, and other places of interest.
Check for business hours (and confirm ahead of time).
Yarn shops and local museums have unique hours, especially small, out-of-the-way ones. They might only be open on Wednesdays or have different hours every day. Always check the shop's schedule ahead of time. If you're traveling around holidays, double-check the shop website or Facebook to ensure there aren't special hours, and call ahead if they have a limited online presence.

Make sure visitors are allowed.
Similarly, if you want to visit specialty fiber sights such as studios, workshops, mills, farms, or other similar destinations, check to ensure that they allow visitors and, if so, if there are specific days or times for visiting. You might need to arrange your visit ahead of time—or you might find out that there's a special event you can take part in. Whenever possible, contact somebody at the place you'd like to visit to see what's allowed and expected. Children might be welcomed in some places and forbidden in others. (Pets are almost never allowed.) As a bonus, this can sometimes lead to recommendations of other places to visit that might be difficult for non-locals to discover.

Consider a tour.
These days, knitters and fiber aficionados can find specialty tours that take you to travel destinations, whether famous or well-kept secrets. For a side trip on an otherwise textile-free journey, you may be able to find something local. Karen Brock, who crisscrossed the globe as associate publisher of Thrums Books, recommends, "Do a quick online search for craft tours for the area you're visiting to see what's on offer. Depending on the area, you might find a local who is offering tours of various crafts done in the area. Often these are related to food, but they may also include local textile artists or farm trips where fiber production is happening. It's a nice way to connect with locals and see more than the guidebooks will tell you and offer shopping opportunities too!"
Pack with Prowess
Along with to finding fiber-related shops and other destinations along your trip, it's also essential to bring a project-in-process (or two or three) for the plane ride or any dreaded downtime.
If you plan to travel by plane, what to bring can be fraught. Airlines and countries have different rules about what is and isn't allowed on an airplane. When in doubt, airline contact customer service about what's allowed, but regardless of the rules, you will still be at the mercy of airport security's interpretation.
Plan your needles.
To get around potential issues with security, Suzie Briddsang of Rowan Tree Travel & Fibercraft recommends taking interchangeable knitting needles. As a bonus, they take up less space than straight needles. Just make sure not to take wooden needles that can snap. She also advises bringing travel children's scissors with rounded tips, because they look non-threatening while still being sharp enough to cut yarn. (Save the sharp snips for checked-in baggage.)

Snap a photo of your pattern.
On a recent trip, when Karen Brock brought a project with her, she learned one lesson the hard way: take advantage of your phone's camera. "Of course, knitters will want to bring travel knitting—something small and easy to pack," she says, "and a photo on their phone of the part of the pattern they're working, in case they happen to leave their bag containing the pattern on a train platform in Salzburg, for example."

Pack an (empty) bag.
While you might think you're being careful about packing light and leaving room for any souvenirs, it's so very easy to fill up that space and more. Suzie solves this problem by bringing a fold-down duffel bag or backpack for her purchases. (For books, bring self-addressed mailers and ship them home—books are heavy. There may even be a lower-cost book rate.)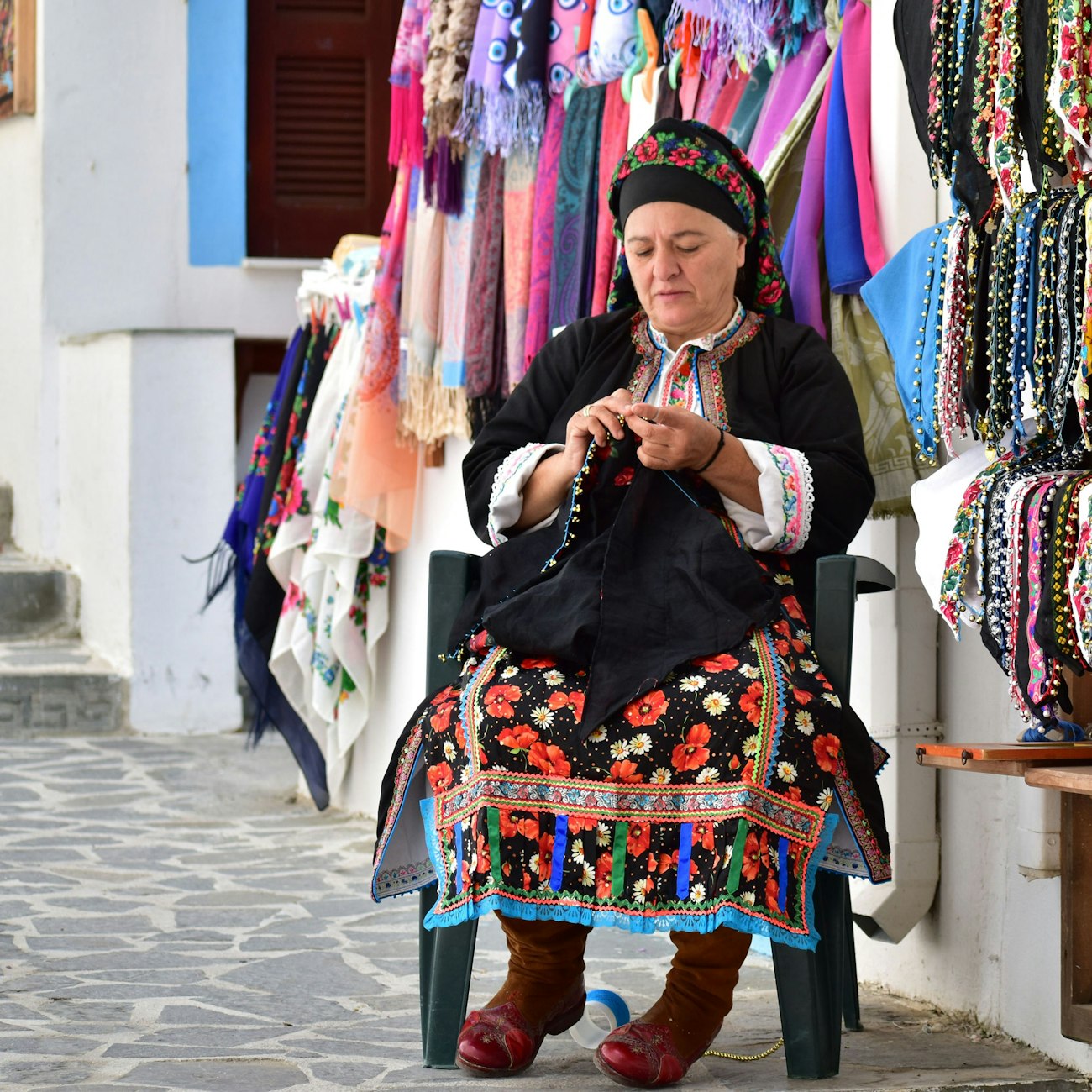 A needleworker on a side street in Karpathos, Greece, is just one of the textile sights you can see by getting off the main drag. Photo by Ries Bosch via Unsplash
The Art of Discovery
Sometimes, your best discoveries will be by accident. When you're planning your itinerary, make sure to leave time for exploration.
Check out the local bookstore.
Linda Cortright, the founder of Wild Fibers and a global textile traveler, uses a mix of planning and serendipity to find new fiber sites. She says, "My other taproot for making local connections, should endless searching on social media prove unproductive, is to find the nearest bookstore. People who work in bookstores are invariably a font of information and are also apt to have connections beyond the printed word." (Paper is a kind of textile, so bookstores are fibery destinations of their own.)

Get out of town.
When you arrive in your destination, if you have hopes of finding farms, mills, or other yarn-related sites that weren't on your initial list, jump in a cab. Linda Cortright continues, "If you're smack in the city, your local taxi driver probably can't direct you to the nearest sheep farm, but creep out of town aways and you might be amazed at what you discover."
Often, just by wandering the streets, going to markets, and talking to locals, you can find unexpected fiber surprises. I've found those surprises can be far better than anything you might have planned. So go out with an open mind and heart and see what you can find!
-Christina
---
Christina Garton is the editor of Easy Weaving with Little Looms magazine.
---
Links
Rowan Tree Travel & Fibercraft
Wild Fibers