Imagine signing on to live on a fiber farm for a year in a "Small Ruminant Residency—A one year commitment to learn and be taught Sheep and Fine Wool production."
Not quite ready to change your lifestyle to apprentice on a sheep farm? Fret not. Plenty of other options abound for enjoying a few days or even a few weeks on a fiber farm. Choose your level of engagement—a tranquil stay in the countryside admiring grazing sheep from the deck as you relax with your knitting or a more labor-intensive, fully immersive farm stay. Help feed the sheep and play with lambs, learn about sheep breeds, watch sheep shearing (and have a go at it), schedule a tour to learn more about daily operations, or take a spinning, dyeing, or knitting workshop.
Many fiber farms have added Airbnbs to help offset operating costs, and that's created a terrific opportunity for fiber enthusiasts to discover yarn at its source as well as a heartening look at the rigors of life on a fiber farm.
Meet the Critters
Wing & A Prayer Farm in Shaftsbury, Vermont, promises to "restore & reset your pace." As a guest of Wing & A Prayer, you can feed the lambs (after a proper introduction) and meet the sheep, goats, alpacas, miniature donkeys, and just for fun, an American Guinea hog named Princess Peppermint. Tamara White, who owns the farm along with her family, teaches natural dyeing and homesteading workshops. While staying at the farm, you can schedule a tour of the first successful Valais Blacknose sheep breeding program in the United States and learn about the care of sheep, regenerative grazing practices, and sustainable fiber farming. And buy naturally dyed yarn or a home-baked pie!

Learn about sheep, sustainable fiber farming, and dyeing at Wing & A Prayer Farm. Photos by Jenn Bakos and courtesy of Tamara White
Meadowcroft Farm, in Washington, Maine, offers a farm vacation, "without getting dirty, unless you want to. . . ." Relax in the private Airbnb apartment and enjoy the beauty of the surrounding countryside or tag along with owner Nanne Kennedy. Nanne has devoted decades to developing a Polwarth flock at Meadowcroft, making her "the only Polwarth breeder on the continent." It's here that you can join Nanne in that one-year Small Ruminant Residency. She also recommends the Sheep Doula Apprenticeship as a shorter opportunity during lambing season. Meadowcroft is also the site of SeaColor Yarnery, so there's an opportunity to see how yarns are dyed in seawater in solar vats with food-grade dyes, and of course, buy yarn!
Soak in the beauty of the Maine countryside at Meadowcroft Farm. Photos courtesy of Nanne Kennedy
Why not stay in a sheepherder's wagon (three to choose from!) at Blakesley Creek Farm in coastal Oregon? Lois Olund and her partner started the Bellwether Wool Company 26 years ago and work every part of the process. Lois raises mostly Wensleydales and shears, washes, and dyes her own wool. "I absolutely love having visitors on the farm through Airbnb and especially fiber folks!" she says. As a retired teacher, Lois values hands-on learning for all ages. "When Airbnb guests are here, I offer a mini lesson in spinning, needle felting, or weaving (small lap looms). Some fiber folks come spend a few days and learn all they want to know about how I raise sheep, including during lambing, or washing and dyeing fiber for our Bellwether Wool Company. Or some just want to come hang out with the animals . . . whatever works for them."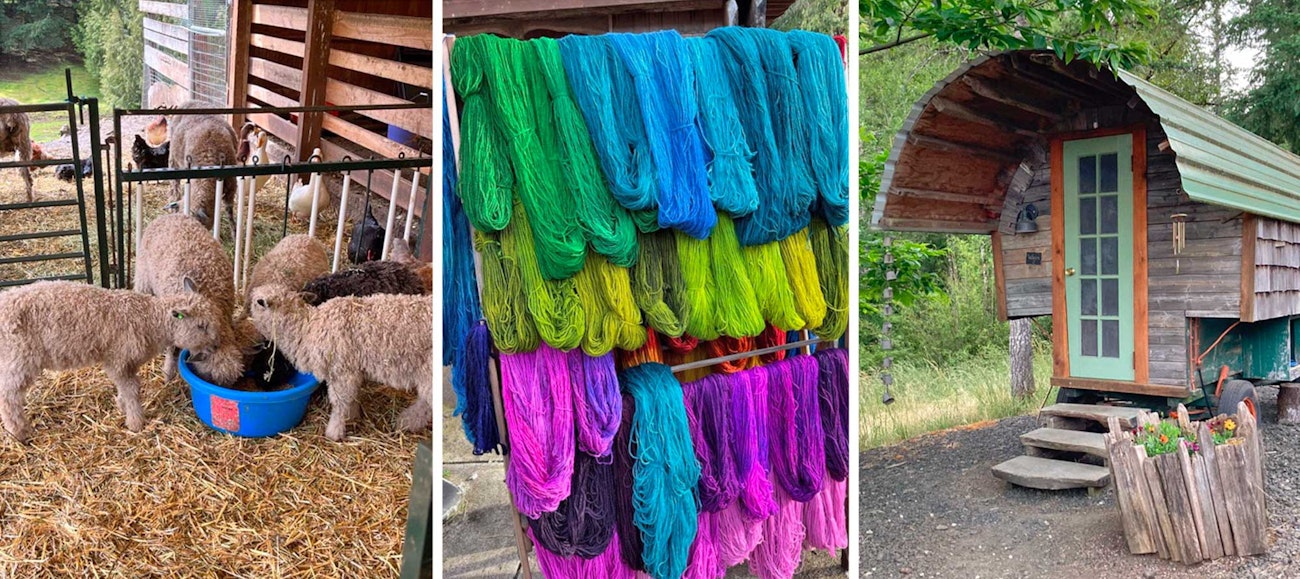 Take a lesson in the fiber arts and bunk overnight in a sheepherder's wagon at Bellwether Wool Company. Photos courtesy of Lois Olund
Go Global
You will find dozens of unique farm stays across the United States, but wherever you find sheep, you'll find a farm stay. The Visit Scotland website has a robust listing of farms stays, which it cites as a growing travel trend as travelers seek out authentic rural experiences. In France, befriend llamas while glamping at the Loire Valley Llama Farm Stay. Or search New Zealand.com for its list of available farm stays.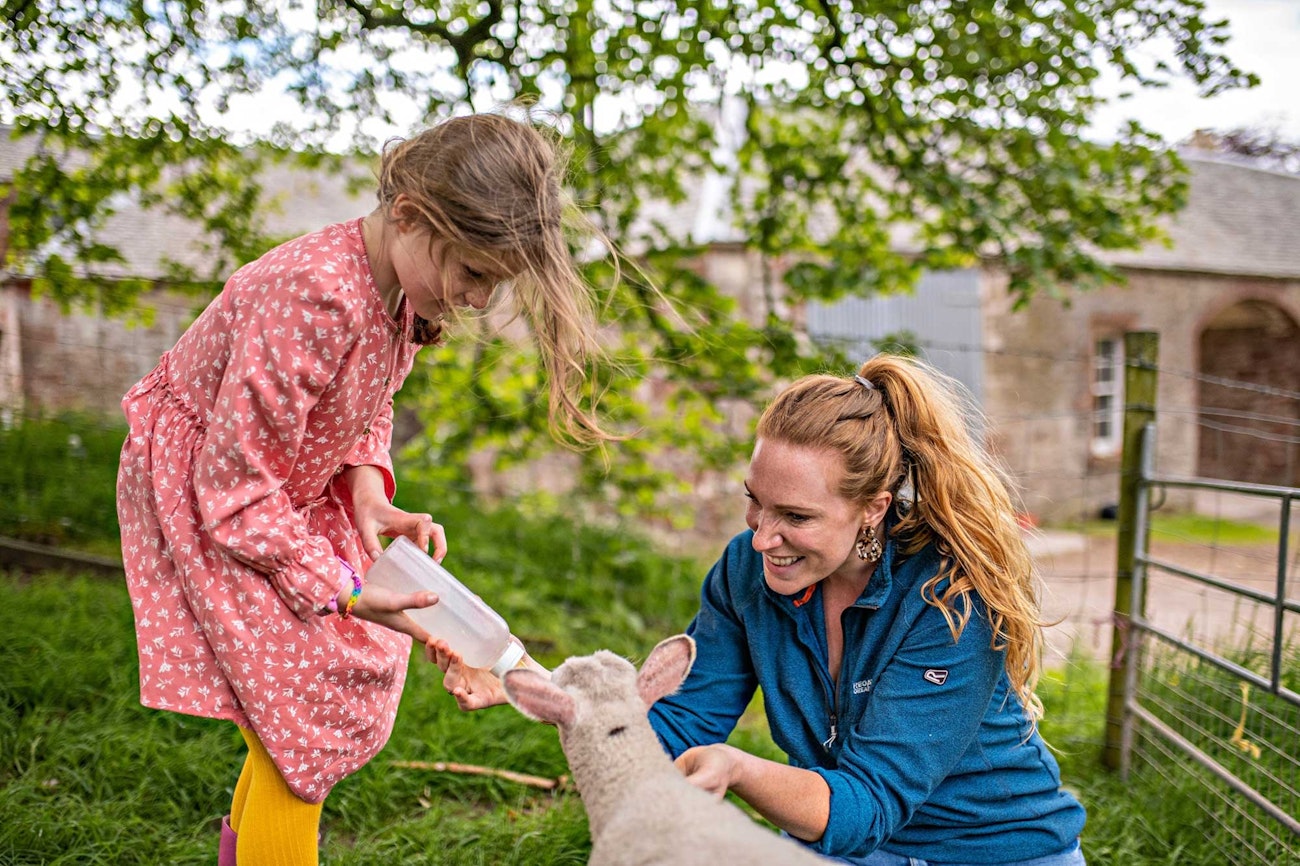 Photo courtesy of VisitScotland/Louise Purves
If you're ready for a real working vacation, you can join a working farm organization that supplies worldwide listings where farm owners provide travelers room and board in exchange for a few hours of work on the farm each day. Organizations such as Worldwide Opportunities on Organic Farms (WWOOF) or Workaway are organizations designed to connect travelers with farmers to promote educational and cultural exchange; you can find a spectrum of farms, but filter your search for "Fiber," "Yarn," "Knitting," and you'll be pleased with the results. For Workaway, under "Find a Host/Top Host Types" select "Farmstay experiences." You'll find an alpaca farm in the heart of the Monts d'Arrée in Finistere, France, or a small hobby farm in Quebec that raises Cashmere goats and manufactures circular sock knitting machines in their home-based business, or an eco-farm in Puerto Octay, Chile, that invites travelers to shear sheep and process wool.
WWOOF volunteers work about 4–5 hours/day in exchange for free accommodation and meals. Some farms allow weekend volunteers; others require a one-week minimum, but many offer (and prefer) stays for up to a few months. WWOOF accommodates solo travelers, and many farms welcome couples, groups of friends, and families. Farms are organized by country, including the United States, so you'll have to determine which country you'd like to volunteer in and then pay for a membership to access that country's listings. Membership cost varies by country or region but runs about $30–$40. Workaway has a variety of options in terms of accommodation and meals on its farm stays; many farms prefer volunteers to stay for at least two weeks. Workaway memberships run from $50–$60 but give you access to all worldwide listings.
Planning Your Trip
An internet search for "fiber farmstays" will yield dozens of opportunities from coast to coast and help locate the best farm for you. Or visit Farmstay and search by state or by fiber. Similarly, you can select "Farms" when searching for accommodations on Airbnb and peruse the choices to find the best match for your interests and needs.
If you are traveling with friends, make sure they're comfortable in a farm setting. What seems like a fabulous rural delight to you may not have the same value to your fellow travelers.
Tamara White from Wing & A Prayer Farm advises that guests "should be sure to bring footwear that they don't mind getting dirty. Boots are always best!" She also likes to inform visitors that livestock guardian dogs may bark at night and recommends "if folks are sensitive sleepers, they might want to bring earplugs or a white noise machine . . . there are many roosters here, and they start crowing pretty early!" Another consideration related to furry friends on any farm is allergies. Many farmers consider not only sheep, llamas, or alpacas as part of the family, but dogs and cats, too. Take note of the accommodation.
Will you have shared rooms in the farmhouse where pets may also live? Or will you have private accommodation separate from the working life of the farm? For the health and safety of the farm's animals and other guests, typically no pets or outside animals are allowed. However, some farms are pet friendly, so be sure to communicate in advance with your farm hosts.
Whether it's sipping coffee while watching dew lift off the sheep pasture, inhaling a peaceful breath of fresh country air, or getting dirty learning the tricks of the trade, there's a farm and flock somewhere just waiting for you.
Karen Brock is a contributing editor for Farm & Fiber Knits, Spin Off, and PieceWork.