Along the western edge of the Sacramento Valley, in Solano County just north of Vacaville, lives a flock of more than 60 rare-breed Jacob sheep tended by shepherds Robin and Dan Lynde of Meridian Jacobs. For 10 years, one of the essential ingredients in the success of Meridian Jacobs has been its Farm Club. Robin says that members range in age from their early 20s to late 70s and have diverse backgrounds, but share both "a common interest in learning about and supporting a local farm and the love of animals and fiber craft." Many are handspinners and knitters, but some just come to learn more about the beautiful white and black spotted sheep.
The income generated by the club's dues help support all facets of farm life, and members provide some physical help, too, both on the farm and at shows. "Several Farm Club members were at Black Sheep Gathering in Oregon and helped there," says Robin. "There has often been a sheep-to-shawl team, including virtually during the pandemic." Members help at the State Fair, and those who live outside the region may visit the farm when they're in the area.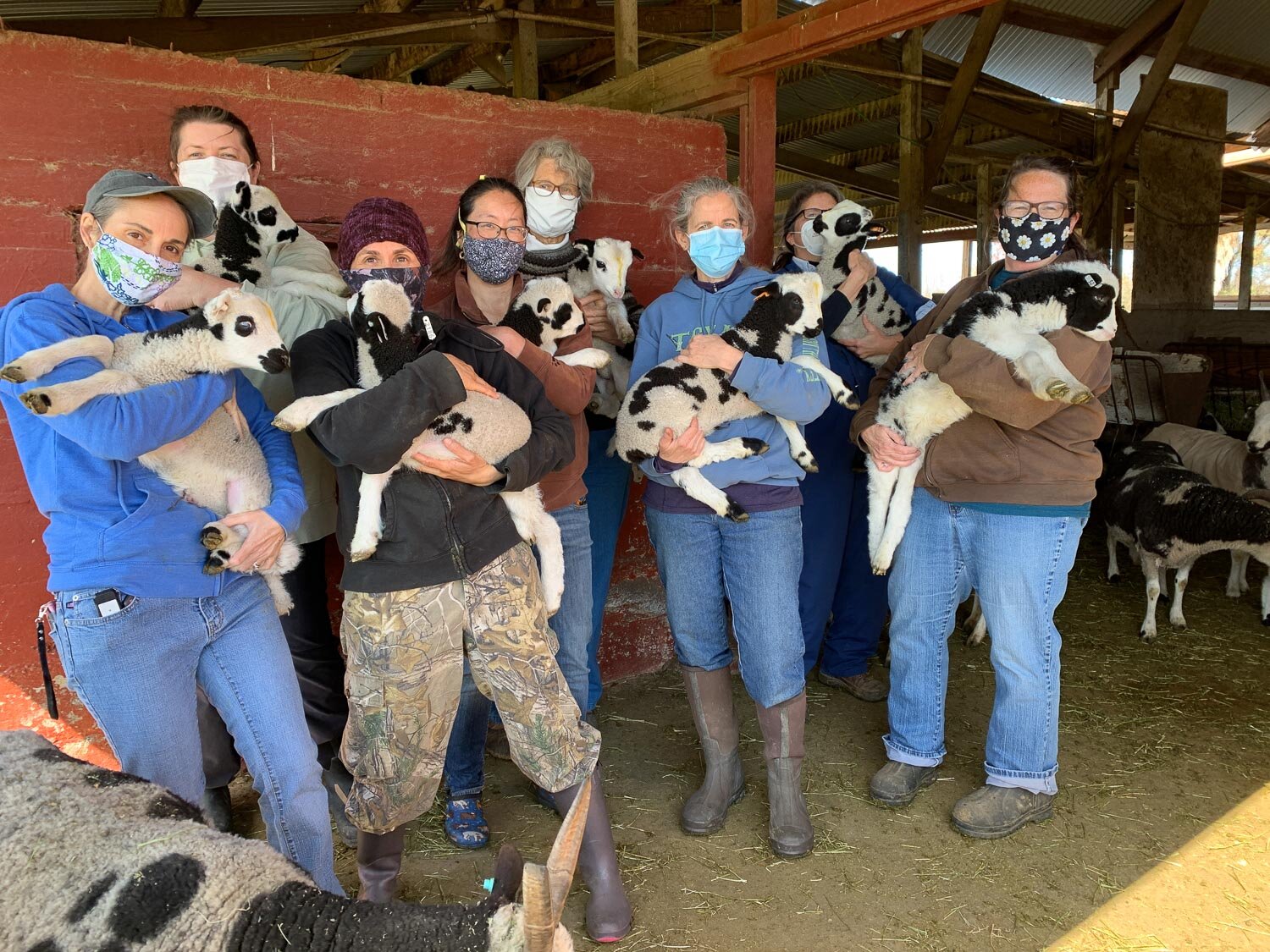 Meridian Jacobs Farm Club members can get up close and personal with the sheep when they visit the farm and help with the animals. Photo courtesy of Meridian Jacobs
The Farm Club offers a variety of ways to connect to the farm that are supplemented with several tiers of benefits. The Basic membership includes Meridian Jacobs logo swag (such as T-shirts, tote bag, or apron), a discount on classes taught by Robin, a free Sheep Handling and Management class, and regular Farm Journal email updates on lambing, farm happenings, and events. There's also an exclusive members-only page on the farm's website.
Farm Club options also include Yarn and Fiber memberships, which include fleece, a pound of fiber, or a pound of yarn. Fiber isn't the only reason that people like lambs, of course, and there are membership options for meat and lambskin.
A number of farms across North America offer Fiber CSA (Community Supported Agriculture) programs, where members purchase a share of the year's wool crop and may attend events at the farm. Just like with a produce CSA, members develop connections with a shepherd and flock, developing a understanding of where their yarns come from. As far as we know, Meridian Jacobs' Farm Club members get a uniquely behind-the-scenes peek at what it takes to go from sheep to skein. Robin says, "People want to have a farm connection and be around the animals."
For more information about Meridian Jacobs and the Farm Club, visit meridianjacobs.com.
An earlier version of this article appeared in Spin Off.