In the world of knitting, few designs possess such enduring charm and rich history as the knit-and-purl patterns of the traditional gansey. A testament to the artistry and craftsmanship of generations past, these designs have become a symbol of both practicality and elegance. With each intricate row, a story unfolds, weaving together tradition, functionality, and style.
Associated with the fishermen of the British Isles, ganseys were traditionally worn by these seafaring souls to brave the unforgiving waters of the North Atlantic. In our modern context, the gansey patterns endure, embodying a sense of timeless sophistication and a connection to a rich history of craftsmanship.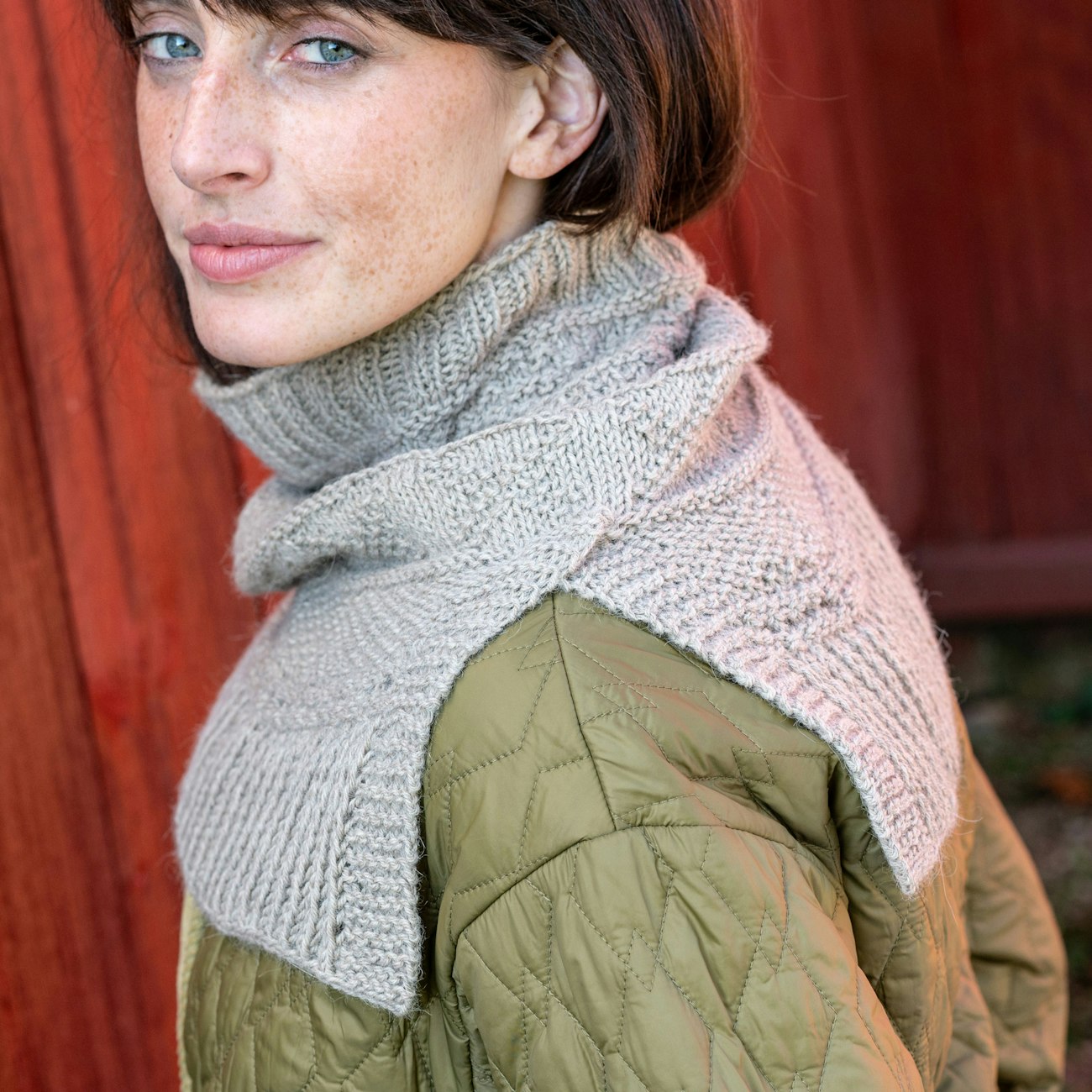 Inspired by the split hem in many gansey sweaters, the slit at the lower edge of the Marble Bay Cowl lets the piece drape easily around the shoulders.
The Marble Bay Cowl introduces a twist on a classic cowl shape: a split at the lower edge, a contemporary look with historic origins. This design feature was inspired by traditional ganseys, which often featured split hems to provide ease of movement for sailors. Today, this split adds an element of modernity, making the cowl effortlessly chic and allowing it cowl to drape gracefully and comfortably around your neck and shoulders.
Gather your tools, grab your yarn, and cast on for a knitting adventure as timeless as it is contemporary.
MATERIALS AND PATTERN PDF
Yarn Yarn Citizen Harmony Worsted (50% alpaca, 50% wool; 211 yd/100 g skein; worsted weight): Sand, 2 skeins.
Needles Size 8 (5.0 mm) 16" (40 cm) circular needle (cir). Adjust needle size if necessary to obtain the correct gauge.
Notions Stitch marker (m).
Gauge 17 sts and 24 rnds/rows = 4" (10.2 cm) in St st, blocked; 17 sts and 28 rnds/rows = 4" (10.2 cm) average gauge in textured patterns, blocked.
Finished size 22" (55.9 cm) circumference at top and 14½" (36.8 cm) tall.
Visit farmfiberknits.com/abbreviations for terms you don't know.