SPONSORED CONTENT
For the knitting-obsessed, the fiber life is about more than putting needle to yarn, it's about the adventure. Fiber lovers can explore the heritage of Lopi in Iceland, shop trunk shows for French yarns in Switzerland, or practice traditional dye techniques in the Norwegian fjords, experiences that can't be had from home. Heather Radl and her team of fiber ambassadors are shepherding such adventures with Rowan Tree Travel & Fibercraft.
Dream. Make. Go.
Knitting tours let travelers sink their hands into local yarns, learn from artisans with a lifetime of practice, and meet adorable fiber animals, all in the company of travelers who are equally dedicated to yarn. "I really love being with a group of people and having a really wonderful learning experience on top of fun and fiber," says Suzie Briddsang, Rowan Tree Travel's tour manager, editor, and fiber ambassador. "There's that learning component, and there's nothing like traveling with a group of people who are totally into the same thing you are." Rowan Tree Travel works with local teachers to host workshops in fiber arts and unique crafts, letting textile travelers experience the craft through connection. "It's something that brings the whole group together, if they're all trying something new," says Radl.
Countries such as England, Scotland, and Norway, with their rich fiber histories and native wool breeds, are popular choices for fiber travel, but far from the only ones. Rowan Tree Travel's fiber ambassadors lead curated tours to family farms, small textile mills, and locations that the solo traveler would be hard pressed to discover. Adventurous knitters can sign up for vacations to every corner of the world with thriving fiber arts communities—some you may only have dreamed of.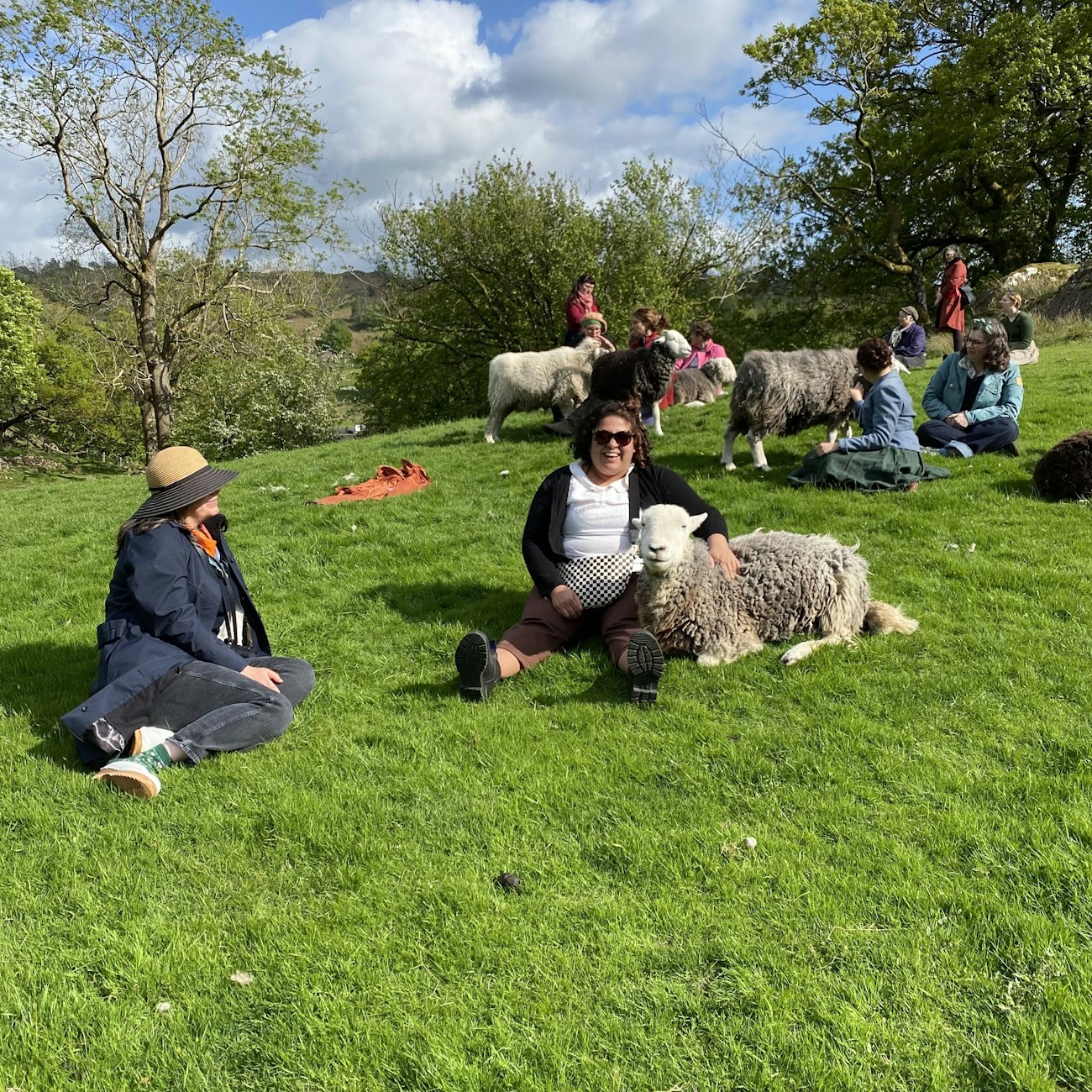 A merry band of fiber travelers gets up close and personal with some local textile workers. Photo courtesy of Rowan Tree Travel
Wool and Wonders of New Zealand
In New Zealand, sheep famously outnumber people five to one, but sheep aren't the only attraction for fiber tours. Before sheep were imported to New Zealand (or Aotearoa, in the Māori language) in the 1700s, Māori people made cloth from harakeke, a plant in the lily family also known as New Zealand flax. Travelers on Rowan Tree Travel's 2024 tours will learn about traditional Māori methods of working with the fiber—a class you won't find outside New Zealand.
Of course, for New Zealand travel, sheep are the main attraction. Millions of sheep are still raised in remote locations, such as a family-run 11,000-head sheep station in the Kaikoura Mountain Range. Most accessible by plane, the station gives fiber travelers an intimate look at the history of shepherding in the region and a chance to watch sheepdogs work the flocks. Travelers can skip the rough living of traditional ranch life, though, in favor of deluxe accommodations (including wood-fired hot tubs) and chef-cooked meals.
Fiber equipment manufacturers Ashford and Majacraft also call New Zealand home, and spinning travelers might be tempted to make the trip just for an up-close look at spinning wheels, looms, and other tools in production.
Holding Heritage in Your Hands
In a world of fast fashion and one-click ordering, a knitting tour is a chance to be immersed in local cultures. Textile travelers have the chance to experience fiber arts traditions firsthand, whether it's meeting shepherds raising small flocks of native sheep or learning a new craft such as wool-wrapped Dorset buttons. Working with local farmers, teachers, and artisans supports small fiber-based economies working to preserve their textile heritage. Sydney Morrell, Rowan Tree Travel's strategic planning advisor and fiber ambassador, sums up her approach to tour planning: "When you follow the sheep, you automatically become much more connected to the land and local traditions."
Rowan Tree Travel's upcoming fiber tour of Italy will introduce travelers to the country's native Brogna and Tingola Fiemmese sheep, whose sturdy wools are full of character. Once pushed to the brink of extinction, these breeds are now making a comeback. The fibershed model of textile production is catching on in these regions, leading to a revival of interest in local fiber and heritage crafts. Still, their yarns can be hard to come by. Buying from the source on a knitting tour can be a meaningful way to acquire wools like these, if not the only way. And the more local and unique a fiber tradition is, the more difficult it may be to find without the help of a guide experienced in knitting travel.
Off the Beaten Path, Onto the Farm Track
Textile tours may also offer outings to world-famous landmarks, visits to museums, hikes, and other non-fiber-related attractions in addition to the yarn delights. Wool & Whisky, a trip that mixes fiber arts, visits to distilleries, and gorgeous Scottish scenery, is one of Rowan Tree Travel's most popular trips for knitters and whisky connoisseurs alike. Trips like this can be a great option for knitters whose non-knitting partners want to come along for the adventure. Even when visiting a general site, though, a Rowan Tree knitting tour guide keeps your priorities in mind. A fiber ambassador will never roll their eyes about stopping for the third yarn store of the trip or hustle you away from a fiber mill in favor of Scotland's oldest golf course.
"So I guess my advice for knitters is, travel with other knitters," finishes Briddsang.
Learn more about Rowan Tree Travel & Fibercraft
Rowan Tree Travel home page
Wool & Wonders of New Zealand tours April 4–20, 2024 and April 23–May 8, 2024
Other upcoming Rowan Tree Travel trips
More about the team
SPONSORED CONTENT