Subscribe to The Long Thread Podcast:

Felicia Lo spent most of her college years wearing a lot of black.
The bright, happy color combinations that she loved as a child—lime green and hot pink, pink and yellow—didn't fit other people's idea of what colors went together, so she avoided wearing colors altogether. It took years to begin introducing color into her wardrobe again.
As handdyeing began its groundswell in the early 2000s, Felicia began experimenting with dyeing fiber and then yarn. As it turned out, fiber artists across the world thought that her color sense was not only acceptable but irresistible.
What began as a casual project in 2005 has grown into a company with a dozen staff members, hundreds of colorways, and a roster of yarn and fiber bases. Yet despite the company's larger scale, each skein or braid of fiber is still prepared, colored, rinsed, and packaged by hand. Maintaining consistency in their very handmade product has meant transforming SweetGeorgia from her initial solo project into a team effort, with staff members collaborating on new colors and initiatives.
Felicia published her book Dyeing to Spin & Knit in 2017, with techniques for fiber artists to choose colors, apply them effectively, and use their handdyed creations. That same year, she founded the School of SweetGeorgia to offer online classes and community, first in handdyeing and later in knitting, spinning, weaving, and other fiber arts.
Although her fiber-arts practices stretch from spinning to crochet, tapestry, machine knitting, and weaving, Felicia always has a knitting project on the needles . . . and these days, it's almost certainly not black.
More of our conversation with Felicia, including what's on her needles and her suggestions on how to choose yarn colors for a knitting project how to choose the right yarn structure for a knitted project, is available in the library for subscribers to Farm & Fiber Knits.
This episode is brought to you by: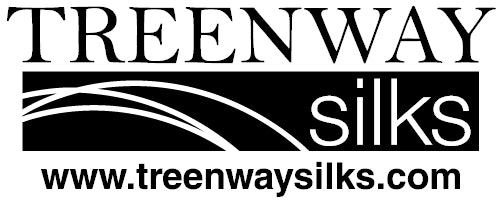 Treenway Silks is where weavers, spinners, knitters and stitchers find the silk they love. Select from the largest variety of silk spinning fibers, silk yarn, and silk threads & ribbons at TreenwaySilks.com. You'll discover a rainbow of colors, thoughtfully hand-dyed in Colorado. Love natural? Treenway's array of wild silks provide choices beyond white.
If you love silk, you'll love Treenway Silks, where superior quality and customer service are guaranteed.
Links