Worsted, DK, sport—these familiar terms give us clues about which needles we should be reaching for, what patterns in our queue might be a good match, and how the yarn might feel in our knitter's hands. These terms tell us what size the yarn is, but not what's inside. The number of plies, the direction of twist, and more can an all determine how well a yarn works in a stitch pattern.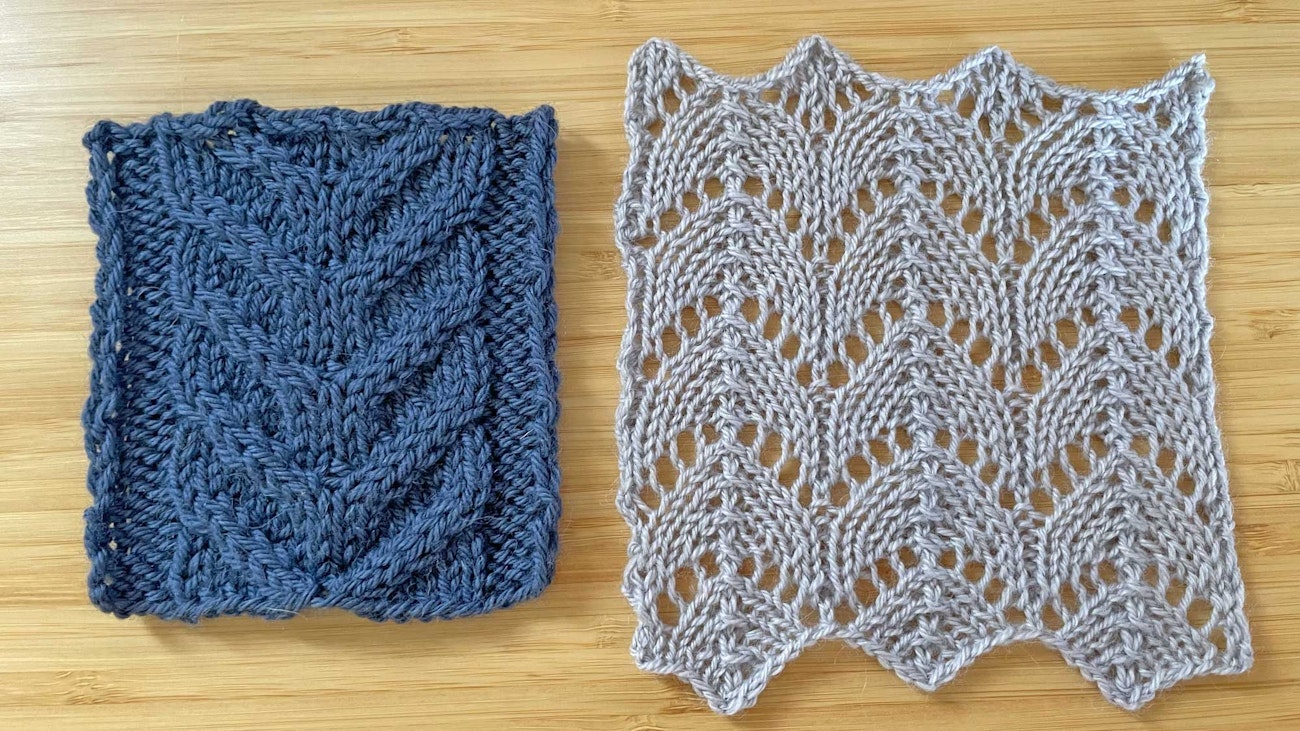 Kate tried two different stitch motifs that were well suited to the yarn construction and fiber.
Taste Test: Yarn Citizen's Unity Worsted and Fingering
I spent some time swatching two weights of Unity from Jimmy Beans' new Yarn Citizen line. The fingering weight is a three-ply yarn, and the worsted weight is a four-ply. Unity is 100% wool with a lovely hand. It has a smooth, almost silky surface but still has a plump, wooly feel.
As a three-ply, the fingering-weight yarn worked well in stitch patterns that benefited from stability. Socks and some colorwork motifs are classic uses for three-ply, but it's also a great choice for some lace patterns. I was smitten with Unity fingering worked in what Barbara Walker calls Horseshoe Stitch. This lacy yet structured fabric allows some three-dimensional effect with the well-placed purls in the pattern.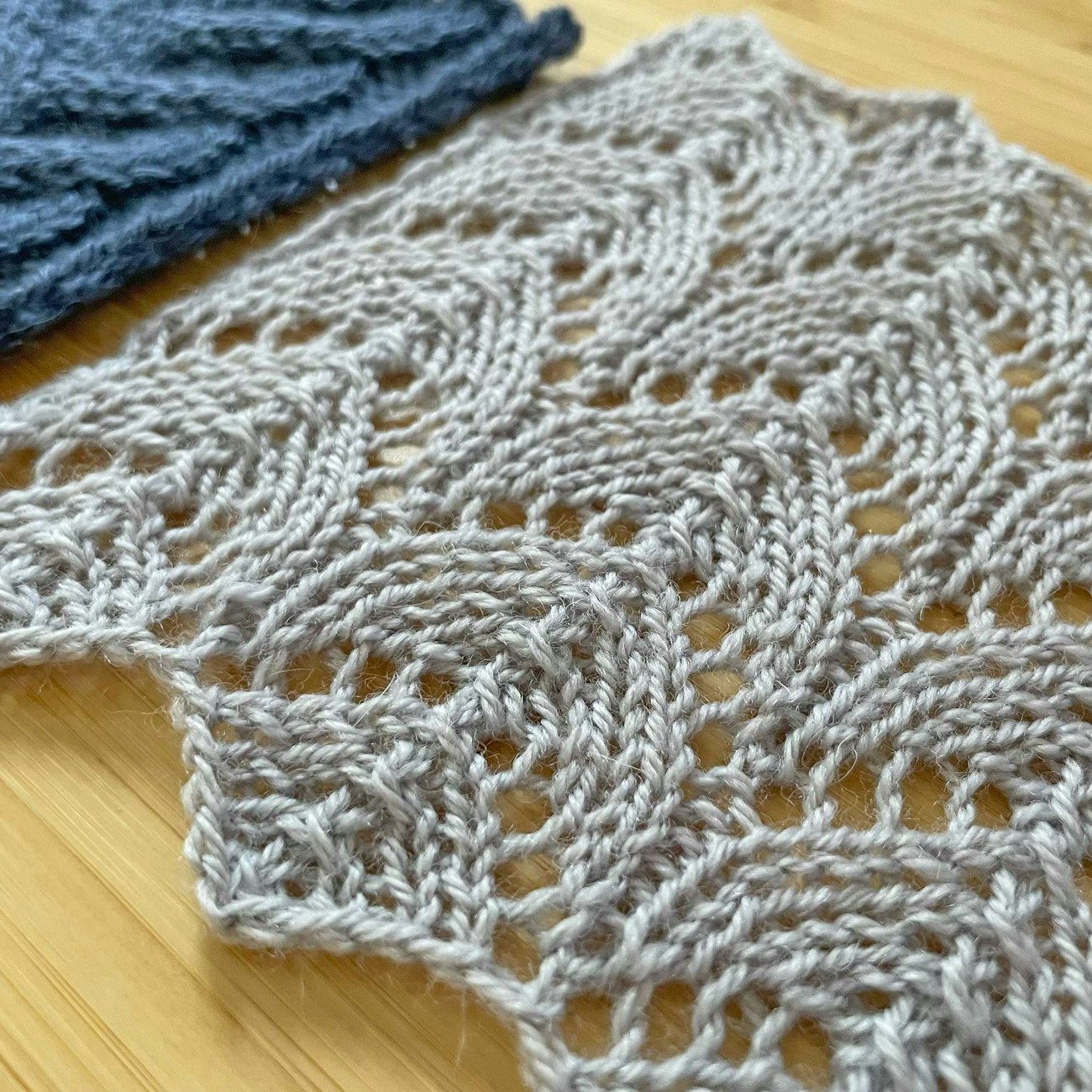 From an angle, you can see the bouncy surface texture created by the three-ply fingering-weight yarn. A two-ply yarn in lace tends to flatten more than a three-ply.
The worsted four-ply could work well for all sorts of textured patterns or even just a lovely stockinette stitch, but I focused on cable stitches. A Staghorn Cable Pattern is a great way to put a yarn through its paces. Because the cable stitches are mirrored in this classic motif, you can see how the structure of the yarn interacts with your personal knitting style. The four-ply structure allowed the yarn to mold into the cable twists, while still creating the strong definition needed for patterns to pop. The still-wooly nature of the yarn allowed the fiber's natural crimp to open and relax when I wet finished the swatch and gently pin-blocked. When working with natural fibers, it can all truly come out in the wash!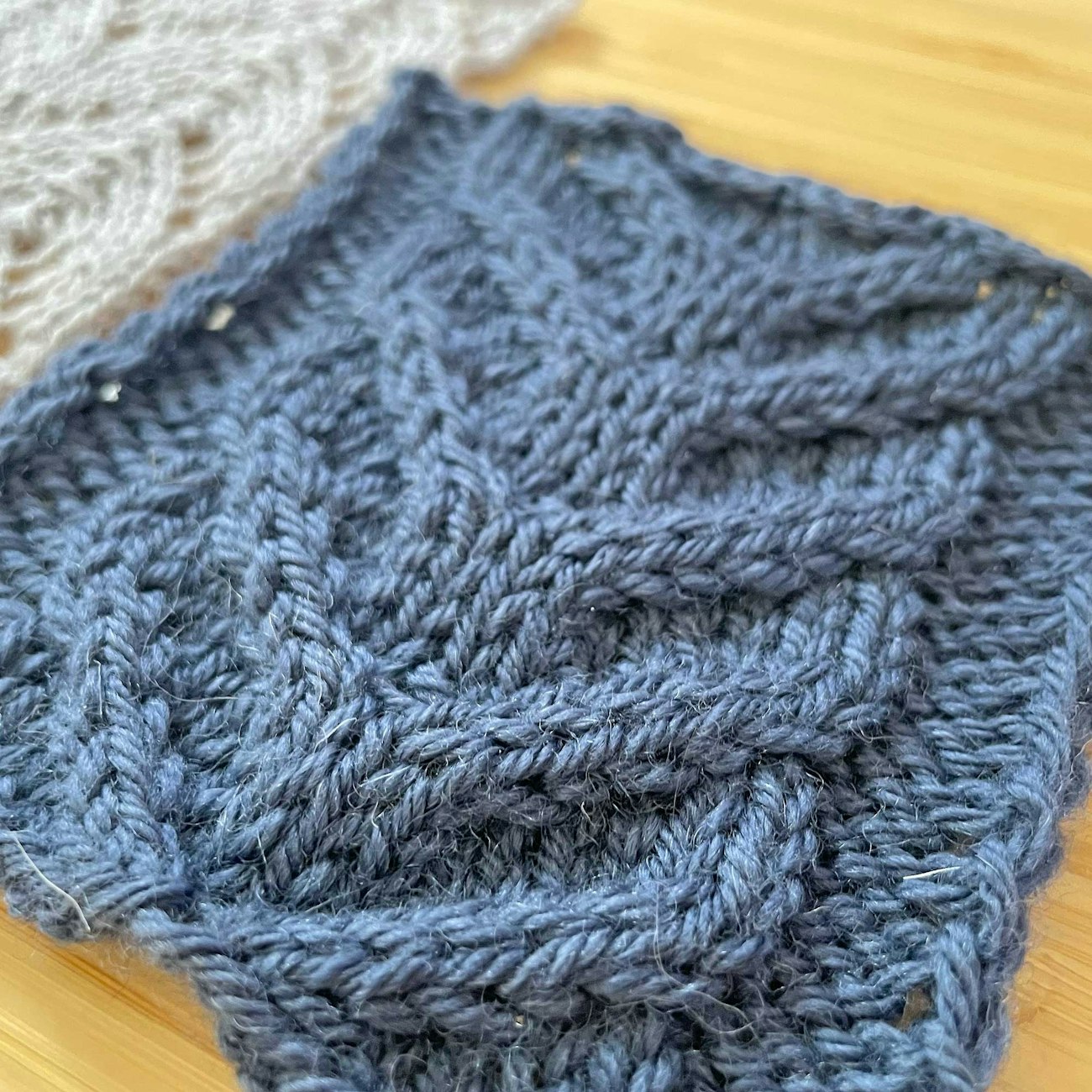 From an angle, the cables are cohesive and smooth after wet finishing, but there is still a strong three-dimensional quality to the cable surface.
The Power of Plies
As a handspinner, I love dissecting yarn to see how it works. One of the important factors in how a yarn performs is how many plies it contains. Each ply (which might also be called a singles) is spun separately, then a group of plies can be twisted together to form our familiar knitting yarns. If you simply untwist your yarn, you can count the plies.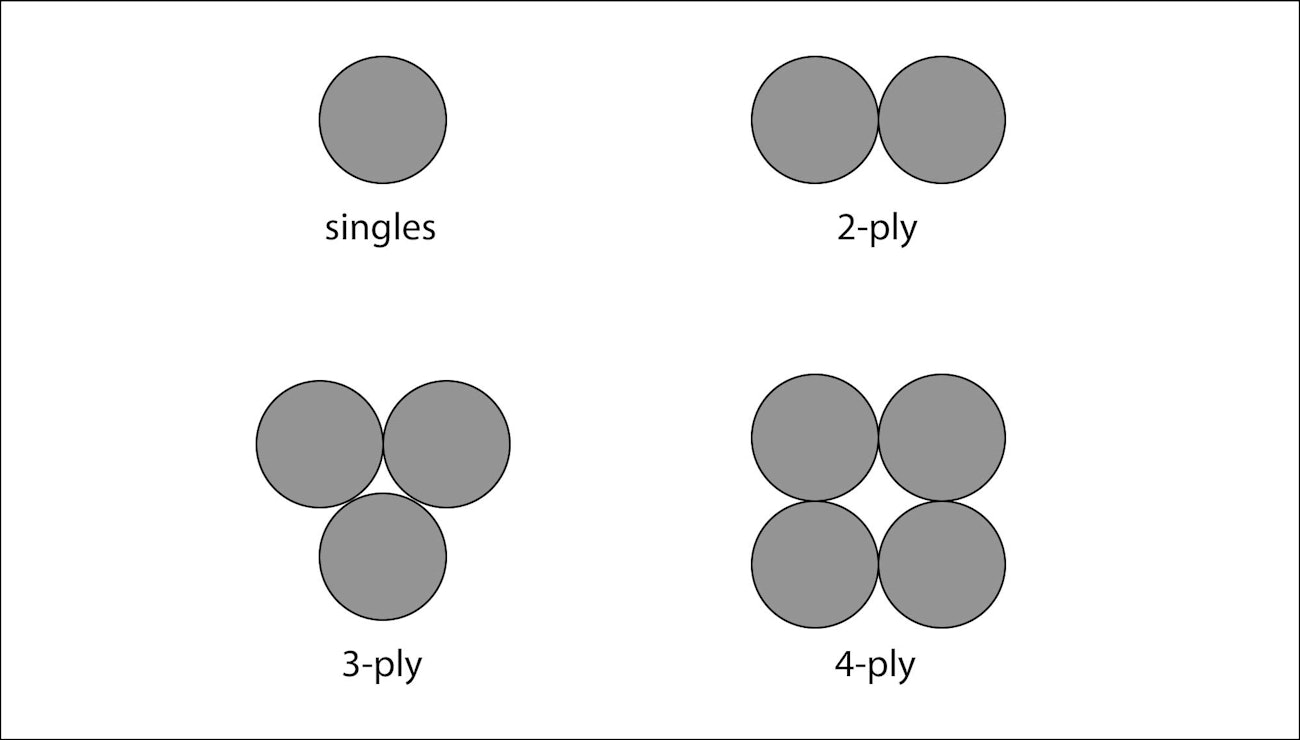 Cross-sections of singles, 2-ply, 3-ply, and 4-ply yarns. Illustration by Debbie Blair
In cross-section, you can see that the way the plies nestle together in various structures is so different! A singles yarn is perfectly round and adaptable. A two-ply is flat, twisting together like the double-helix of our DNA. A three-ply yarn fits tightly together, creating a cohesive, consistent yarn. And then there is the ever-fascinating four-ply. As you can see, four-ply has an airy center built right into the yarn. As you knit, those plies can be fairly mobile in a four-ply.
Where Does the Wool Come From?
The Yarn Citizen line is based on fibers that were essentially leftovers from wool processors in Peru. Jimmy Beans says that by gathering these high-quality fiber remnants together, the yarn mill is able to spin them into upcycled knitting yarns. Learn more at jimmybeanswool.com.
---
Kate Larson is the editor of Spin Off magazine, teaches handspinning and knitting around the US, and spends as many hours as life allows in the barn with her beloved flock of Border Leicesters.