We were delighted to read about Lamb Mowers, a Virginia-based lawn care service staffed by a flock of Babydoll Southdown sheep ("The surprising benefits of switching to 'lamb mowers'" by Michael J. Coren, Washington Post, October 24, 2023). The use of sheep for grass and weed control has been growing over the past decade. On a recent visit to Navarro Vineyard in Mendocino County, California, a friend was enchanted with the flock of Babydoll Southdowns who groom between the rows of vines. Southdown is a medium wool, and like many Down breed wools, it can be an excellent choice for sock yarn. Marie Hoff founded the Capella Grazing Project in 2013 to employ the services of a different rare breed of sheep, the Ouessant, in landscape maintenance and restoration. —Editor
Ouessants are a hardy, short-tailed, primitive breed native to Ouessant or Ushant Island, located off the coast of France in the English Channel. They adapted well to the harsh conditions of the island and found favor with the locals, who raised them for their meat and wool. The sheep also had the added benefit of being mild-mannered and inexpensive to keep. The women of the island could easily handle them while the men were out at sea for several months during the year. The women used the fleeces from the black Ouessants to spin and weave their traditional clothing.
Once thought to be extinct, Ouessants can still be found in France, other parts of Europe, and the United States. In the early 1900s, several sheep were moved from their tiny island to the French mainland and were kept in small flocks as a novelty breed to graze estate grounds. Today they are mainly kept as a hobby breed, with the exception of a few small breeding and grazing programs in Europe and the United States.
The Capella Grazing Project
In the United States, the Capella Grazing Project was the first of its kind to use Ouessants for commercial grazing. However, unlike urban programs in France that focus on landscape maintenance, Hoff seeks to use Ouessants on a much larger commercial scale with a focus on restoring the health of the land. The project began in 2013 when founder Marie Hoff not only found herself in a position to purchase Ouessants but also had the opportunity to pilot a grazing project on a friend's vineyard. Inspired by Robert Irwin of the Kaos Sheep Outfit (a grazing company) and having worked with Ouessants, Marie knew that they would be the perfect breed for instituting a holistic grazing program in the United States.
"He [Robert] was a major inspiration to me that it actually could be done; before I talked to him, it was just an idea I had and had heard of vaguely. I would drive through West Sonoma, past vineyards and orchards, and see all the grass and think how much sense it would make to have sheep graze it. But I was still new to agriculture; I didn't have a sense of how to make it work as a business," Marie explains. "Robert really impressed me, because he showed me that not only could it be done as a business, but that it was a viable industrial business. I think both small- and large-scale agriculture are important, for various reasons. But if I thought sheep grazing couldn't work large-scale, I don't think I would promote it as a viable alternative to mowing [and] using weed whackers. About four months after I met Robert, the offer for the Ouessant sheep came. I wasn't really expecting to start having sheep of my own yet, but because all the pieces were lining up, I just had to take the opportunity when it came."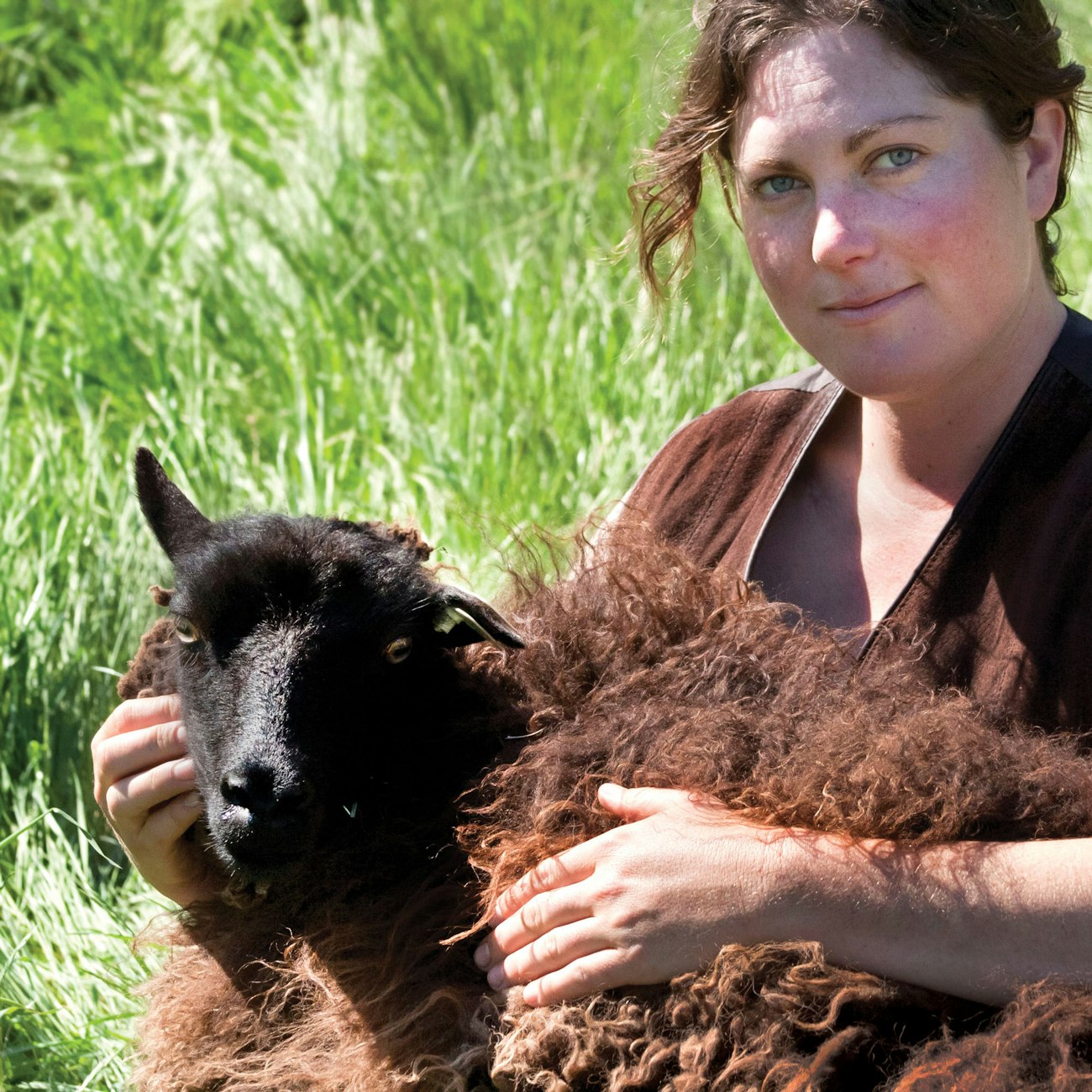 Shepherd Marie Hoff and one of her Ouessant sheep, who help restore the soil as part of their grazing service. Photo by Alicia Lang
The Capella Grazing Project focused on using the Ouessants in a biodynamic land-stewardship approach to restoring the health of the landscape instead of only addressing the immediate maintenance needs of a site. "I take the health of the sheep and the health of the landscape into account when making decisions on where and for how long we graze an area," she said. "We try not to spread thistle or other invasives that do not promote healthy soil. We try to encourage perennial grasses, which promote healthy soil structure along the coastline." Marie also takes care to allow her sheep to engage in their normal, healthy sheep behavior, which includes plenty of room to graze and even social spaces to interact.
As these light-footed ruminants graze, they also fertilize the soil and even till it in with their hooves. The impact from their feet on the soil is minimal and will not damage the delicate roots of trees or vines.
This low impact is especially important when the sheep are grazing around and among a vineyard's grapevines or the fruit trees of an orchard that are the livelihood of the landowners. Orchards and vineyards also find that having a flock of woolly sheep grazing their property is a great marketing opportunity. Marie says, "The land-stewardship focus makes us the perfect fit for preserving a rare breed; if we can give these sheep a job, we can keep them from dying out."
Marie has more recently founded Full Circle Wool, which offers climate-beneficial wool products in addition to providing the grazing services.
Links
Full Circle Wool
Kaos Sheep Outfit
Sasha Wirth, "Choreographing Change with Marie Hoff of Full Circle Wool." Fibershed blog, January 6, 2023.
Caroline Spurgin, "The Capella Grazing Project." Fibershed blog, May 8, 2014.
Catrina Frost is a Pacific Northwest knitter, spinner, designer, and fiber enthusiast. When she's not happily absorbed in yarn or fleece, she can be found on adventures with her brilliant husband and two lovely children.
An earlier version of this article appeared in Spin Off Spring 2017.